"If you actually believe that the vaxx works and have been jabbed and boosted, then why should it matter if someone else chooses not to be vaxxed. You're protected, right?"
- Lynne Yandura (Twitter)
In this chapter my goal is to introduce you to several vaccine injured people and where you can find out about vaccine injuries. I hope that you will see that vaccine injuries are a real thing.
It's been surreal for me to see the "safe and effective" slogan repeated again and again while at the same time learning about vaccine injuries. It is easy to find out about vaccine injuries if people look. At some point injuries associated with the Covid vaccines will be undeniable to everyone including people in government agencies, mainstream media and the mandaters themselves.
There are at least 4 places where people who believe in mandating Covid vaccines could be learning about vaccine injuries.
1- People can learn about vaccine injuries by searching on social media. These examples come from Twitter: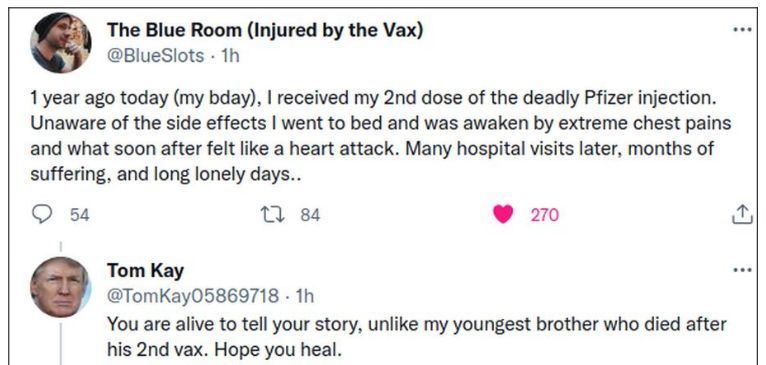 The Blue Room suffers from myocarditis and is unable to live normally. Being injected with Covid vaccines prevented him from living a full life. He posts regularly on Twitter. His story is very sad, and he deserves to be made whole. In response to his post, Tom Kay wrote that his brother died after his second dose of the Covid vaccine.
Here is another young man suffering from myocarditis: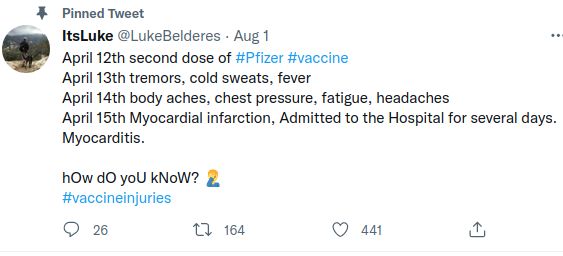 In the above tweet, Its Luke wonders why people are so resistant to believing his experience. I can't imagine how he deals with people's refusal to open their eyes. I would want to shake them… or I'd end up shaking inside myself.
Next is a young man who died in his sleep.
The sad news was shared on Twitter: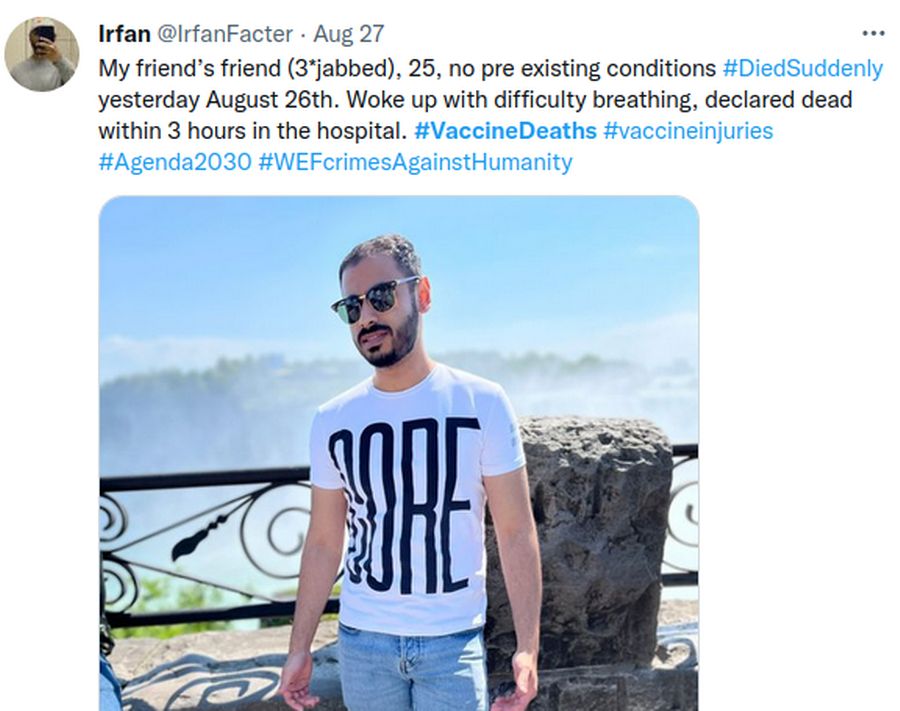 It's not normal for 25 year olds with no pre-existing conditions to die.
Here is a young woman who is vaccine injured speaking out on Twitter: "Normally mortified by showing my face like this, however one of the many side effects of the #Pfizer jab, I will. I have NEVER had this happen to me before. My immune system is losing it! What was in it??! Why did they do this to us??!"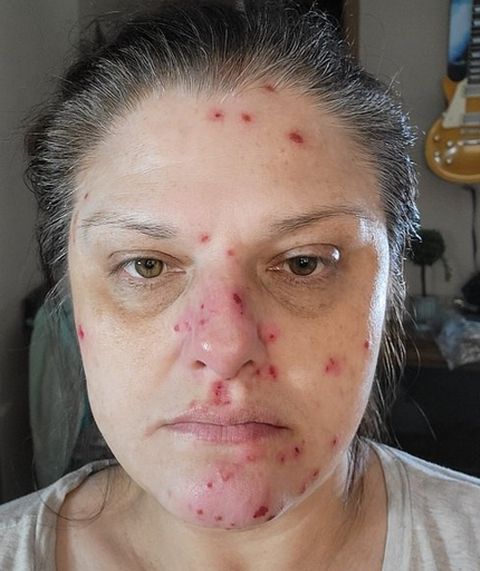 2- On Substack, people can learn about vaccine related injuries by listening to and reading the articles written by many highly credentialed doctors, scientists, healthcare workers in the US military and accomplished others who are speaking out on Substack and in independent media. Here are a few:
Dr. Robert Malone has a very widely read Substack page. He is the inventor of mRNA & DNA vaccines. In the August 2, 2022 article Data doesn't lie: mRNA-vaccines and correlation to all-cause mortality Dr Malone shares a transcript of a discussion he had with Dr. Theo Schetters, a virologist, immunologist and vaccine expert, highly respected in his native country, the Netherlands. Drs. Malone and Schetters discuss the timing of Covid vaccination and the timing of excess deaths to see if there is a correlation. (Marlies Dekkers is the host of the program. Both Marlies Dekkers and Dr. Shetters speak English, but it's not their native language, so their wording and grammar are a little different.)
"Marlies Dekkers: So what do we now know about the side effects?
Dr. Schetters: Well, and that's the problem with this technology because this mRNA travels through your body because of the formulations that they used…. So it potentially affects all organs. And that's what the medical doctors now see, they see all sorts of symptoms that they do not know what it is. And because the adverse effects are so not just single one adverse effect, but can be anything, they surface very difficult to a statistical level. And that's why we do analysis on all cause mortality… if we do not know what is exactly related to vaccination, of course, the coagulation problems, myocarditis, we know that, but there are many more things happening. So that's why we look at all cause mortality, and in the Netherlands now it's very clear that there is a good correlation between the number of vaccinations that are given to people and the number of people that die within a week after that.
So let's say in this week we gave 10,000 vaccinations. Then in this week, we have something like 125 excess in death in that week ...
Marlies Dekkers: And what kind of data then you use?
Dr. Schetters: I use the data from the Central Bureau of Statistics and of our National Institute of Health. And the point is that although they report that every week, they do not report the graphs that we make. So what they do is they show the cumulative buildup of the people, the number of people that have received the vaccination, the fourth injection. So then you see a curve that goes up. You do not see the change per week, but if you calculate a change per week and you then take the figures from the Central Bureau of Statistics, where they present you the excess mortality that follows the same dynamics, the same.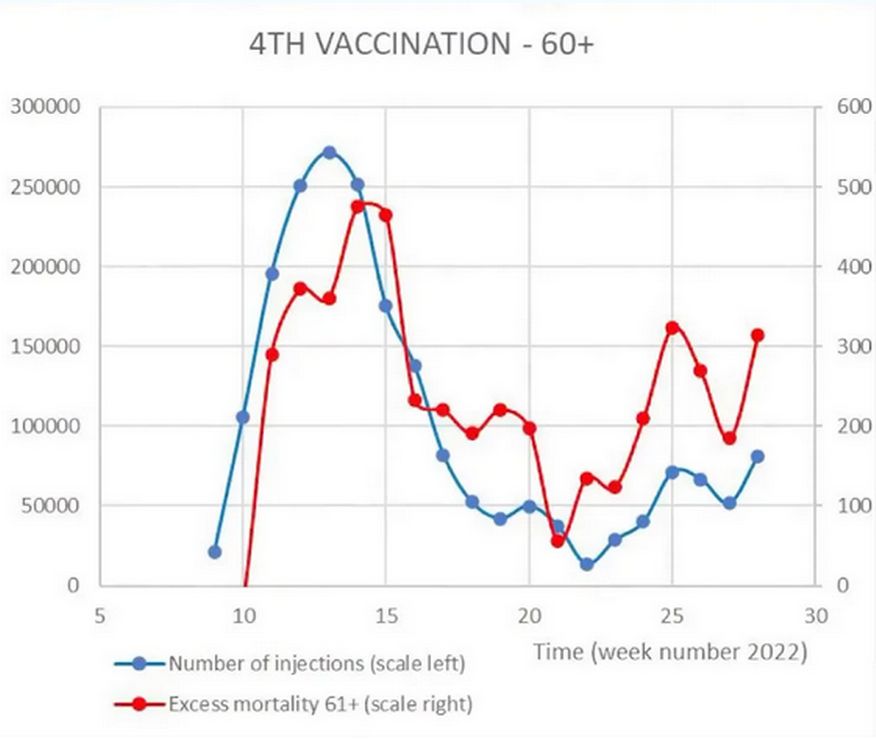 Marlies Dekkers: So if you have more vaccines in that week, then you also have more excess death.
Dr. Schetters: Exactly. Yes.
Marlies Dekkers: If you have less vaccines in that week, you have...
Dr. Schetters: Fewer deaths.
Marlies Dekkers: I got goosebumps.
Dr. Malone: So all-cause mortality is the ultimate indicator for things that we didn't expect. And that's why we always have to have it in clinical research. And yet once again, like so many other things, we have disregarded the learning of decades and denied the importance of all-cause mortality.
Dr. Schetters: Yeah. So what we've done is we have written a registered letter to the director of our Institute of Health and presenting the results and expressing my concerns. And just with the question, from a precautionary point of view, please reconsider vaccination strategy because I think this is a real warning. And so it's not that everybody dies. Actually I do a rough calculation it's 1 in 800, but then again, but I mean, these are then especially...
Dr. Malone: 1 in 800 is a pretty big number.
Marlies Dekkers: It's a pretty big number.
Dr. Malone: The myocarditis incidence now is publicly acknowledged by some governments as 1 in 5,000..."
Do you think vaccine makers, government officials, and the people who push Covid mandates know about the correlation between high levels of vaccination and increases in deaths?
Here is another important researcher:
Steve Kirsch has a very widely read Substack page. His self-introduction on Substack reads:
"….a high tech serial entrepreneur before retiring at age 64. I used to believe that the FDA, NIH, and CDC were honest organizations. I trusted them. I'm doubly-vaxed with Moderna as of March 29, 2021.
A month later, I started hearing stories from my friends who reported relatives who died or they themselves became permanently disabled. So I looked into it and the more I looked, the more appalled I became…"
On July 7th 2022 Kirsch provides evidence of vaccine injuries in his article, The safe and effective narrative is falling apart.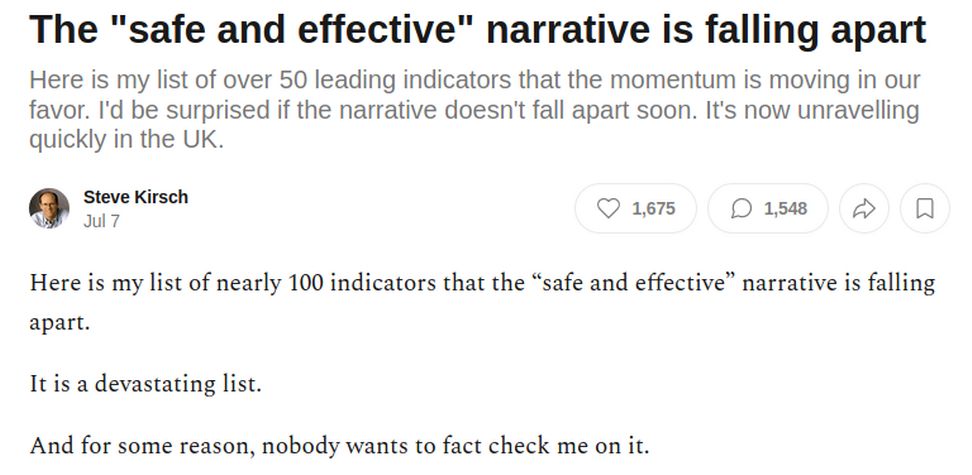 Here are the first four indicators out of 100 that Kirsch put in his report as evidence that the safe and effective narrative is falling apart:
" 1- Latest UK numbers shows that the unvaccinated have lower mortality for pretty much all age groups.
2- Turbo-cancer is being reported now. It's impossible to explain. Never been seen before.
3- Wayne Root reported that 33 guests at his wedding who are now sick or dead were all vaccinated. The punchline: virtually all his guests were unvaccinated. He wrote...
"Among my friends and family who are unvaccinated, not one of them has died or been sick since my wedding eight months ago."
4- 4X increase in long term disability for airline pilots. The pilots union at a major US airline reported a 300 percent rise in long-term disability claims this year among its members, who are nearly all vaccinated…."
A commenter to Kirsch's article included 34 vaccine associated injuries or deaths in her circle of friends, and acquaintances or the friends and acquaintances of her family members. Here are a few:
1. My friend's 25 year old firefighter son died within 6 hours of his 2nd Moderna shot...
2. My daughter's flight attendant friend died mid-flight from a heart attack (after the shot)
3. My brother-in-law suffered a heart attack 6 days after receiving the booster. The dr said it was the largest clot that he's ever removed in the 10 years he'd been doing this.
4. My daughter's co-workers' husbands (as in multiple) developed shingles and a-fib after receiving the shots.
5. My daughter's co-worker developed heart issues and had to wear a monitor.
People who favor vaccine mandates can have their heads in the sand for only so long. They are acting stubborn and hostile if they won't admit that vaccine injuries are occurring. Some people's bodies can't handle it.
Here is another important researcher:
Dr. McCullough
Dr. McCullough is an internist, cardiologist, and epidemiologist. His focus since the start of the Covid pandemic has been on managing the cardiovascular complications of both Covid infections and Covid vaccinations. In a recent interview about the growing cases of heart inflammation and its connection to spike proteins we read:
"….it is becoming increasingly evident that both the respiratory infection caused by SARS-CoV-2 coronavirus and with repeated and frequent systemic administrations of COVID-19 vaccines that the human body is being loaded with coronavirus Spike protein.
In the medical literature, terms such as "Spike protein disease," "Spikopathy," and "Spike prion-like illness" are appearing… the Spike protein has been found in the human heart and is believed to be the causative agent for the burgeoning epidemic of heart inflammation that has a 90% male predominance, peak incidence at ages 18-24 but can extend down to toddlers and up to men over age 65 years... We could infer that someone who has not taken the systemic exposure of Spike protein from the vaccines will be healthier and free of cardiac concerns as compared to their vaccinated counterpart."
How can Covid vaccines be mandated?
4- Whistle blowers on Independent Media
Another source of information about Covid vaccine associated deaths and injuries are whistleblowers - many of which serve in the US military. Our US military takes an oath to defend the US Constitution. The armed forces are full of many courageous and honest people who signed up to defend our country from enemies foreign and domestic. Many medical workers in the armed services would feel obliged to blow the whistle if they were seeing vaccine injuries. They have integrity. I will introduce you to two of them:
1- Lt. Mark Bashaw, a preventive medicine officer in the Army reported in January 2022 that he was seeing an increase in injuries including myocarditis, pericarditis; male infertility, and tumors.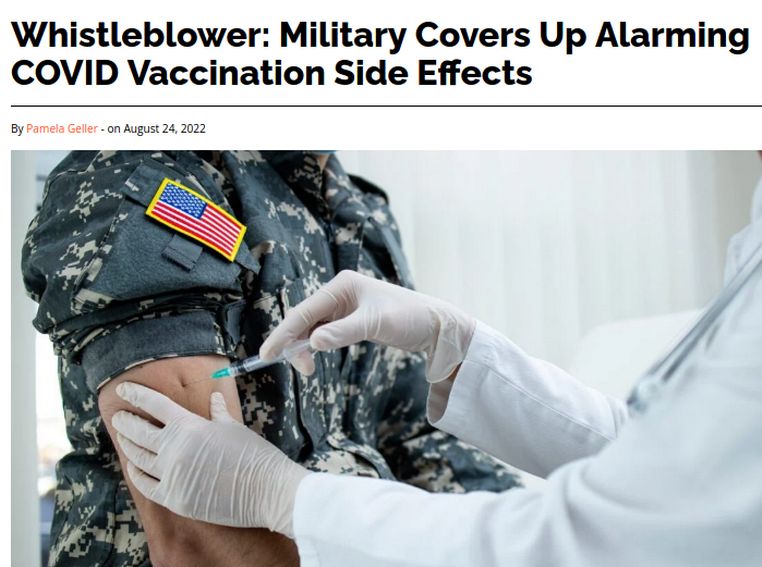 From the article Whistleblower: Military Covers Up Alarming Covid Vaccine Side Effect (August 24th 2022) we learn:
(My underlining)
"In January 2022, First Lt. Mark Bashaw, a preventive medicine officer at the Army, started noticing some "alarming signals" within the defense epidemiological database.
The Defense Medical Epidemiology Database (DMED)... showed during the pandemic a significant increase in reports of cancers, myocarditis, and pericarditis; as well as some other diseases like male infertility, tumors, a lung disease caused by blood clots...
Specifically, the number of cancer cases among active service members in 2021 nearly tripled in comparison with the average number of cancer instances per year from 2016 to 2020, Bashaw said in his declaration."
(Thank you First Lt. Bradshaw for speaking out!)
2- On August 13 2022, Greg Hunter at USA Watchdog interviewed Lt. Col. Theresa Long, Medical Doctor at Fort Rucker and one of the US Army's top Flight Surgeons. Dr. Long's job is to make sure military pilots are ready and able to fly America's complicated and lethal aircraft.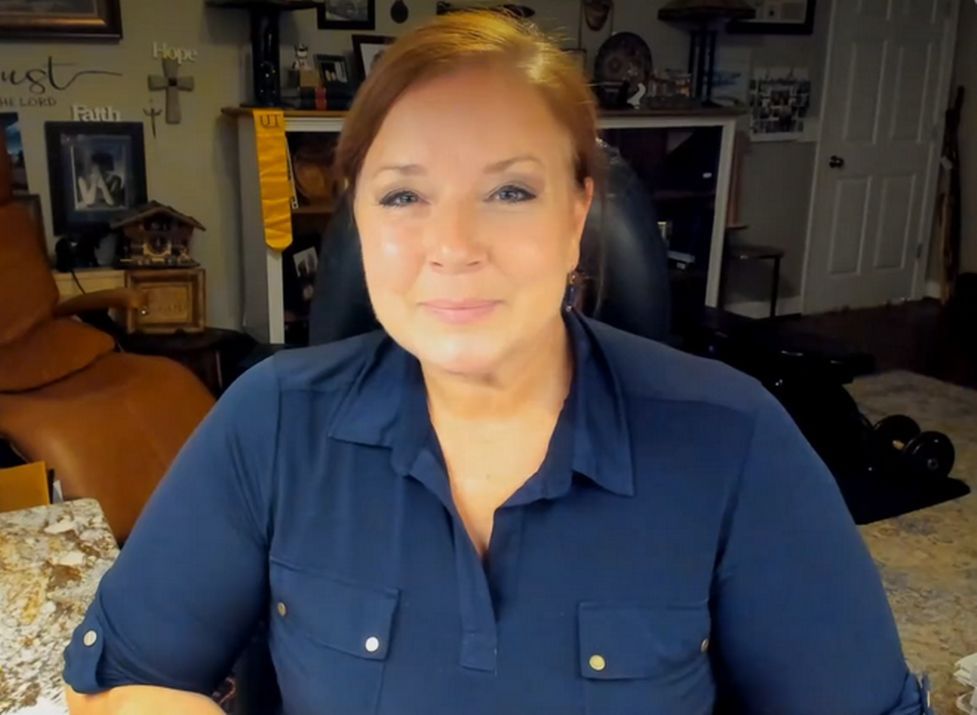 Lt. Col. Theresa Long
Here is a summary of their interview: (My underlining)
"… After months of medical observation of the devastating effects of these injections… Dr. Long, who is unvaxed, says, "If you think for a moment that the very same doctors, politicians or whoever that told you this was safe and effective, if you are waiting and holding your breath for them to come back and say, oops, we made a mistake, it's dangerous and deadly, that's never going to happen.
...What is Dr Long seeing first hand after the CV19 injections? Dr. Long says, "I have seen everything from strokes, to clots in the spleen and liver, cancers, testicular pain, infertility, miscarriages, menstrual irregularity, lung issues, thyroid dysfunction, erratic heart rates… a lot of things that I don't see in someone flying an aircraft… You can see myocarditis and pericarditis weeks and months after vaccines."
The US Military is very familiar with the problems Lt. Col. Long has reported. Dr. Long testified in a Senate hearing in November 2021 with doctors and medical researchers who treat CV19 vaccine injuries and patients who have experienced adverse events due to the CV19 vaccine. Dr. Long also made a highly publicized affidavit against the Biden Administration's vax mandate as a whistleblower under the Military Whistleblower Protection Act in September of 2021. The military brass are well aware of who Dr. Long is and the many problems she is reporting with the so-called vaccines.
What are her superiors telling her? Dr. Long says,
"It's always disheartening when people come to me and say privately, I completely agree with you. I completely agree with you that we should stop these vaccinations, but publicly I will disown you. That's not being a leader. It's just straight up cowardice when you know you are doing the wrong thing and you refuse to change."
Dr. Long estimates there are
"200,000 to 400,000 military members who are not vaccinated," and the Pentagon and Defense Secretary Lloyd Austin have threatened to kick them all out of the service. Are the military leaders this stupid, this compromised or simply committing treason?"
It is shocking that we may lose 100's of thousands of military members due to Covid vaccine mandates. How about we solve the problem by not mandating them? How about we opt for having a healthy and ready military defense?
Healthcare workers speak out
Healthcare workers are nearly all caring, moral and kind people. However, many can't speak out due to fear of job loss and many healthcare workers obligatorily follow the mainstream Covid vaccine narrative. In the article Silenced healthcare workers speak out publicly for the first time Steve Kirsch summarizes what silenced healthcare workers want you to know:
"They are afraid to come out publicly (about the vaccines) due to intimidation tactics such as loss of job and/or license to practice medicine... The COVID shots are a disaster...death rates in elderly homes went up by a factor of 5 after the shots rolled out. Each time the shots are given, the deaths spike. Nobody is talking publicly about this. It's not allowed."
"Doctors are seeing rates of injury and death increase dramatically in all ages of people. The injuries are only happening to the vaccinated. There is no doubt that this is happening but many doctors have so much cognitive dissonance that they don't see it."
"One nurse with 23 years of experience says she's never heard of anyone under 20 dying from cardiac issues until the vaccines rolled out. Now she knows of around 30 deaths"
"I have been a nurse for 36 years. I have NEVER witnessed people in their 20s and 30s having strokes or cardiomyopathies until the Covid vaccines. I work in cardiology. When I mention that someone should look at the vaccines as a possible reason, I am immediately silenced and told, "It is NOT from the vaccine.""
"Doctors aren't recording vaccination status in the medical records so that all the deaths are attributed to the unvaccinated."
"Doctors are deliberately ignoring the possibility that the vaccines could be the cause of all the elevated events. The events are simply all unexplained."
"Many doctors have either quit or will quit."
"Some doctors and nurses at top institutions such as Mass General Hospital have falsified vaccine cards."
"Things don't seem to be getting any better."
"The medical examiners all over the world are not doing the proper tests during an autopsy to detect a vaccine-related injury. Without doing the necessary tests, it is very hard to make an association. There isn't a single "guidance" document from any medical authority anywhere in the world to do these tests on people who die within 3 months of their last COVID vaccination. This is why no associations are found: they aren't looking and it is deliberate. The mainstream press doesn't call them out on this either." (This is an important one- If you don't look, you don't see.)

Rising Cancer Rates
From the October 21 2022 article Cancer Rates are Increasing -- and May Get Much Worse - Wiped Out Immune Systems Take Time to Manifest we read: "We have a problem: cancer deaths began to increase, off the charts, in late 2021... the United States has about 800 excess cancer deaths per week... these excess deaths started just as Covid vaccination took off, and never slowed down; they are increasing and showing acceleration."
The following chart starts in 2014 and goes to 2022. It shows the dramatic rise in Cancer deaths beginning in the first week of April 2021. There has been a steady rise in Cancer deaths ever since: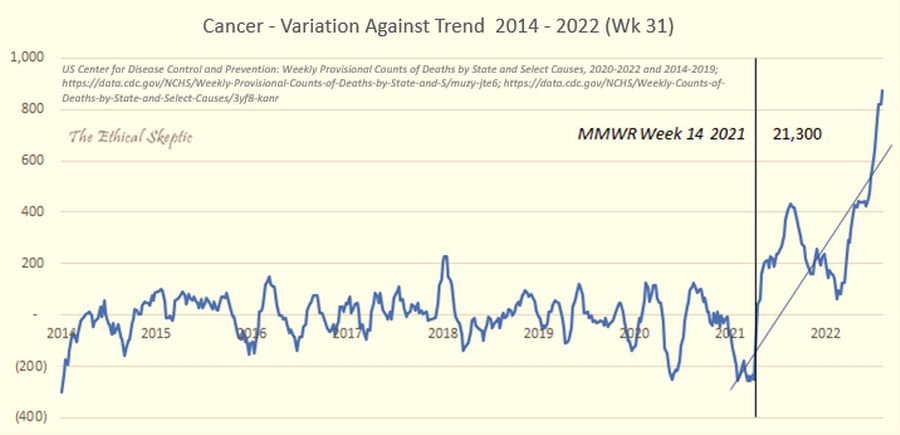 You can see that there has never been such a massive increase in cancer fatalities as there has been since April 2021. Historically, there was about 100 per week. It is now over 800 per week and continuing to rise. What happened in early 2021 to cause this dramatic rise?.
In the article How Cancer Deaths From the COVID Jabs Are Being Hidden by Dr. Joseph Mercola (October 18th 2022), we read these points:
#1 Analysis of U.S. Morbidity and Mortality Weekly Report (MMWR) data suggests the U.S. Centers for Disease Control and Prevention has been filtering and redesignating cancer deaths as COVID deaths since April 2021.
#2 Uncontrollable cancers the medical establishment had never seen before only started to occur after the rollout of the COVID jabs
#3 Data from the Defense Medical Epidemiology Database (DMED) showed cancer rates among military personnel and their families tripled after the rollout of the shots
#4 After the rollout of the COVID jabs in 2021, cancer patients have gotten younger, with the largest increase occurring among 30- to 50-year-olds, tumour sizes are dramatically larger, multiple tumours in multiple organs are becoming more common, and recurrence and metastasis are increasing…"
On August 20th 2022, the Ethical Skeptic published his first in a series of 3 essays: Houston, We Have a Problem. He started his research after the death of a friend:
"On March 21st 2021, a longtime mentor, friend, and business partner of mine, an otherwise healthy 68 year old male, unexpectedly suffered an organ failure cascade which resulted in a shut-down of his pancreas, liver, kidneys, and finally heart. He had just received his second dose of the Pfizer vaccine on that Thursday prior. Carl quickly descended into a coma, and then died on March 26 2021."
The Ethical Skeptic found that excess deaths for all causes (deaths above the historical average for a given week) in the US began to accelerate the same week that the administration of Covid vaccine doses peaked - the week of April 3 to April 10, 2021. (Note that these are deaths for all causes - not just cancer deaths).
As this chart shows, Covid first doses peaked at 13 million doses on April 10, 2021 and then fell rapidly. Covid second doses peaked two weeks later on April 24, 2021 at 11 million doses and then fell rapidly.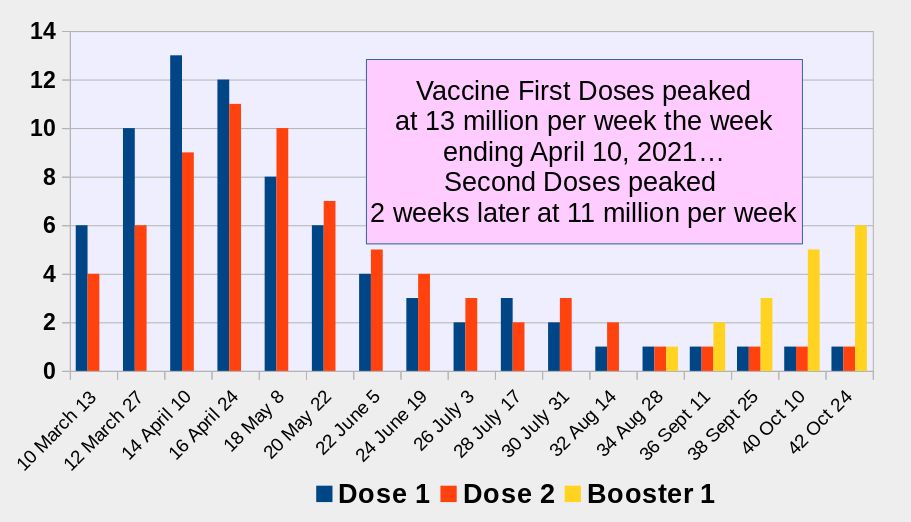 In this next chart we see that excess deaths began to skyrocket the first week in April 2021 and peaked in August 2021 - at which point the CDC began to systematically delete thousands of these excess death reports from their database every week.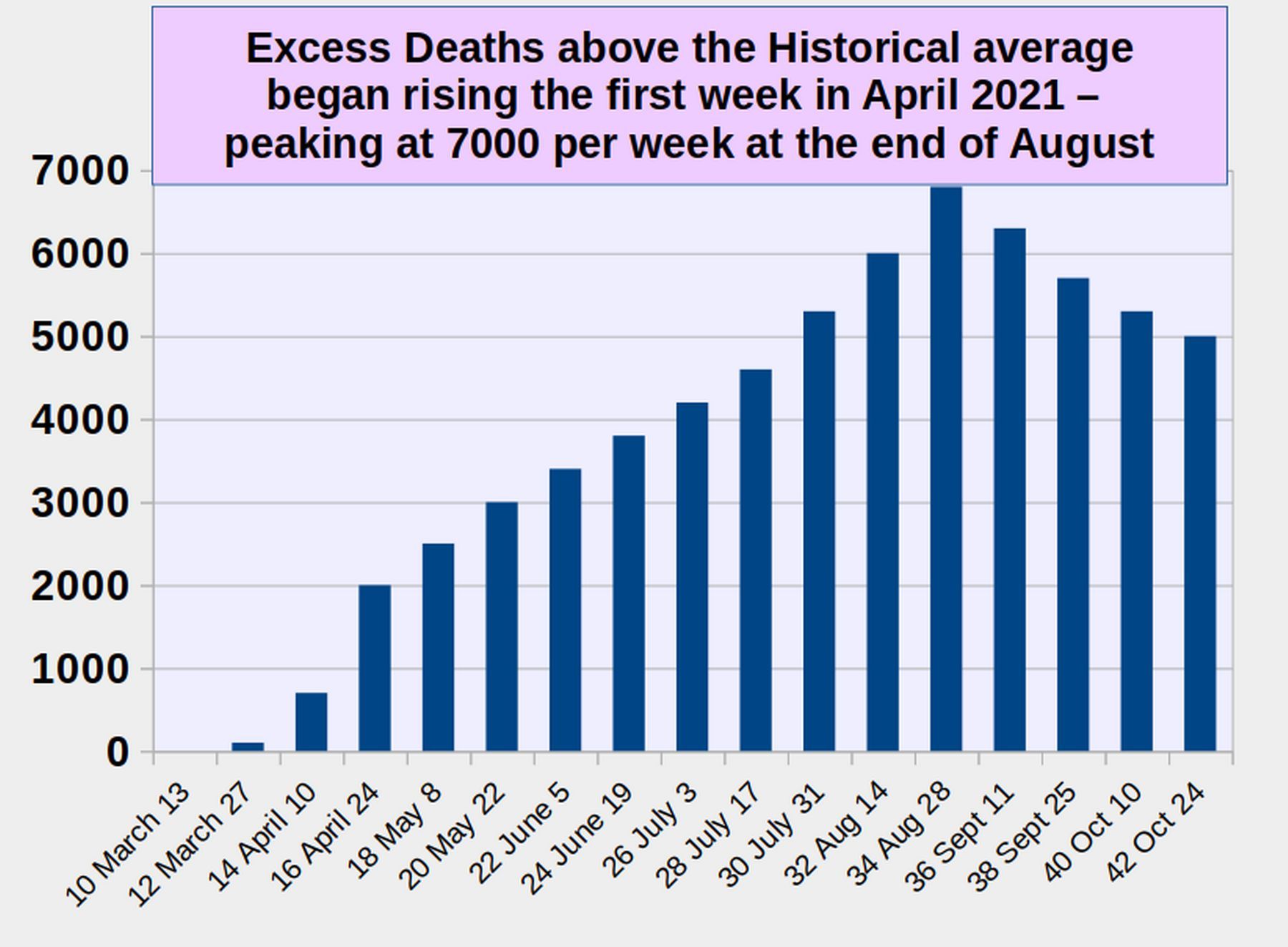 What was extremely unusual about the Excess Deaths in 2021 is that they peaked in the late summer. Historically, people die in late winter. Also, while the excess deaths went down in late 2021, they have gone up even more in 2022. Rest assured reader, many people in the US are aware of this dramatic rise in cancer deaths. What are the people at the FDA and CDC and our elected officials doing with their time? Are they blind to the injuries and the rise in cancer diagnoses and deaths? Are they morally compromised? If an English teacher such as me is unearthing reports like these from highly credentialed people and taking these concerns seriously, why aren't they? What will it take before our concerns that Covid vaccines are likely causing a huge number of injuries, including cancers, be taken seriously?
Sudden Adult Death Syndrome
Sudden Adult Death Syndrome- SADS sounds similar to SIDS- Sudden infant death syndrome. Here are some of the results from a search on Sudden Adult Death Syndrome (August 2022):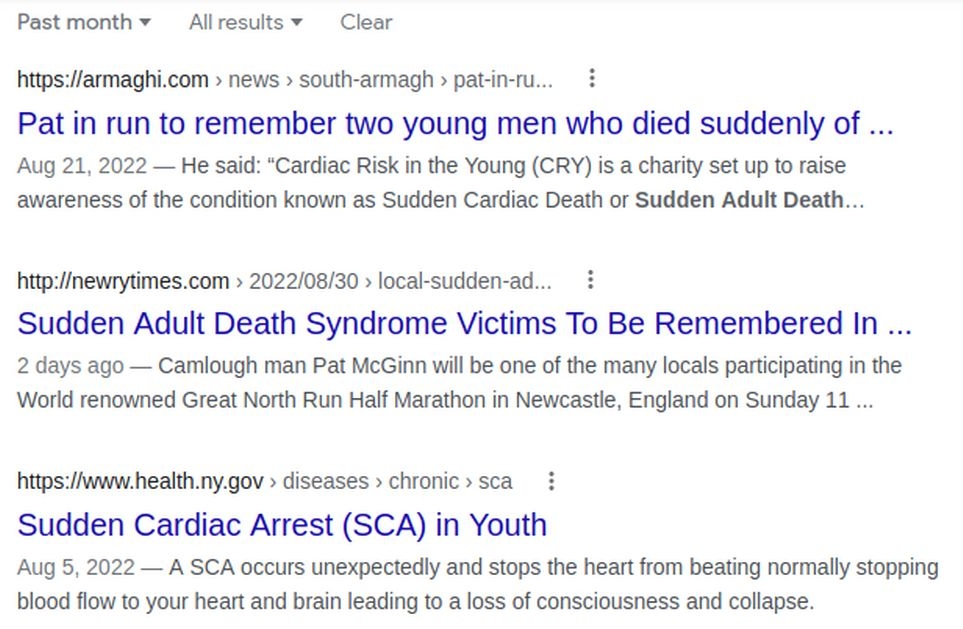 I had never heard of Sudden Adult Death Syndrome before Covid vaccination, had you?
Mark Crispin Miller, Professor of Media and Propaganda studies at NYU, reports on Sudden Adult Death Syndrome most every week on his Substack page:

Crispin-Miller shares newspaper stories of sudden deaths, particularly in young people. Here are three from the week of August 15th to August 22nd:
1- "Comstock Park High School mourns death of boys varsity basketball coach... August 16, 2022
Comstock Park [MI] boys varsity basketball coach Tyler Edwards died unexpectedly Monday of suspected cardiac arrest."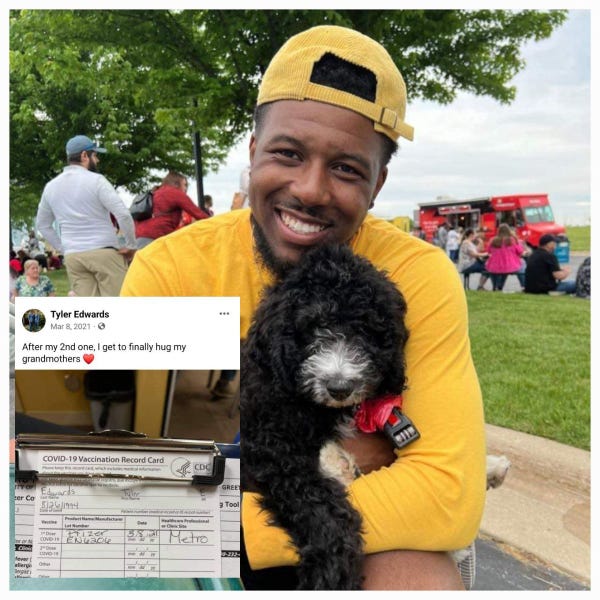 2) "Rising BU junior and student athlete Caitlyn Gable died at the age of 20
Bluefield, WV - Just days before the start of the fall semester, the Bluefield University (BU) community is mourning the loss of a student athlete and rising junior. BU announced on its Facebook page that Caitlyn Victoria Gable, 20, died in her sleep on August 9. Gable was a BU Rams softball player."
3) "16-Year-Old Dies Suddenly After Suffering Cardiac Arrest While Playing Frisbee with Family Members
August 20, 2022
A student died suddenly on Saturday, August 6th, 2022 after suffering from cardiac arrest while playing frisbee with family members. Owen Cotty, a 16-year-old junior at Methacton High School in Montgomery County, Pennsylvania died suddenly earlier this month as he was playing frisbee with his father and uncle."
Had you heard of young healthy people dying in their sleep or dying while playing frisbee or dying from sudden heart attacks before 2021? Crispin-Miller has posted 100's if not 1,000's of these sudden deaths since the vaccine roll out. Had sudden death always existed to the degree we are seeing in 2022… but for some reason we hadn't noticed?
These unexpected and sudden deaths are now occurring nearly every day. Below is a sudden death reported on November 1, 2022 of a famous 38 year old NFL coach who died suddenly even though he was in good health and only 38 years old:
November 1 2022 NFL Football Coach Dead at Age 38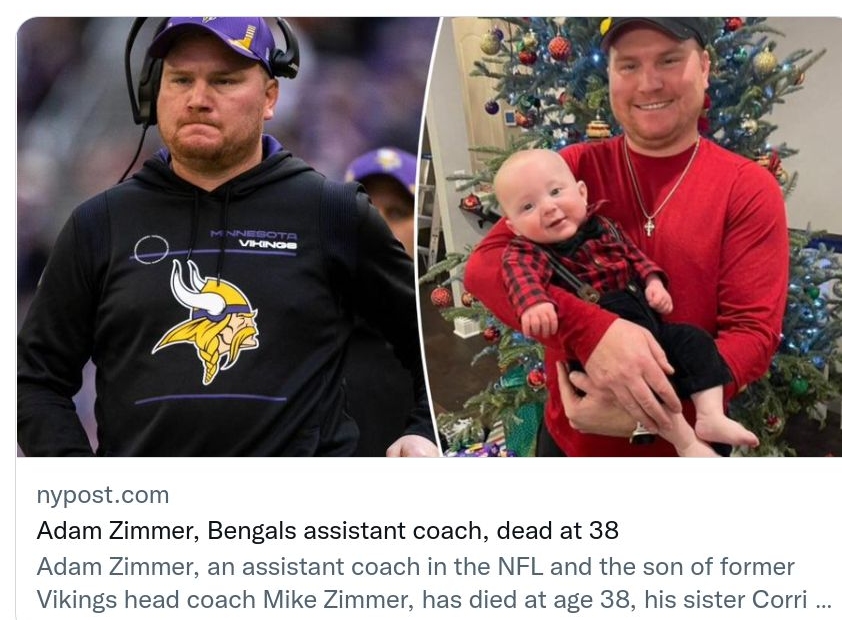 How many of these sudden deaths have to occur before people wake up and investigate the cause of these sudden deaths?
#4 OpenVAERS
People can find out about vaccine injuries by looking at the VAERS database. VAERS is the vaccine adverse events reporting system – a joint venture between the CDC and the FDA. It is the place where doctors can report vaccine associated injuries and deaths. It notoriously underestimates the number of vaccine related injuries and deaths. Most deaths and injuries associated with Covid vaccines go unreported. This website OpenVAERS is a simplified presentation of the VAERS database. It is interesting (and sad) to read the reports. OpenVAERS is updated regularly.
Here is the snap shot of the Red Box Summary, which shows us the number of injuries in the US that have occurred in different categories after taking a Covid vaccine. This is through September 23rd 2022.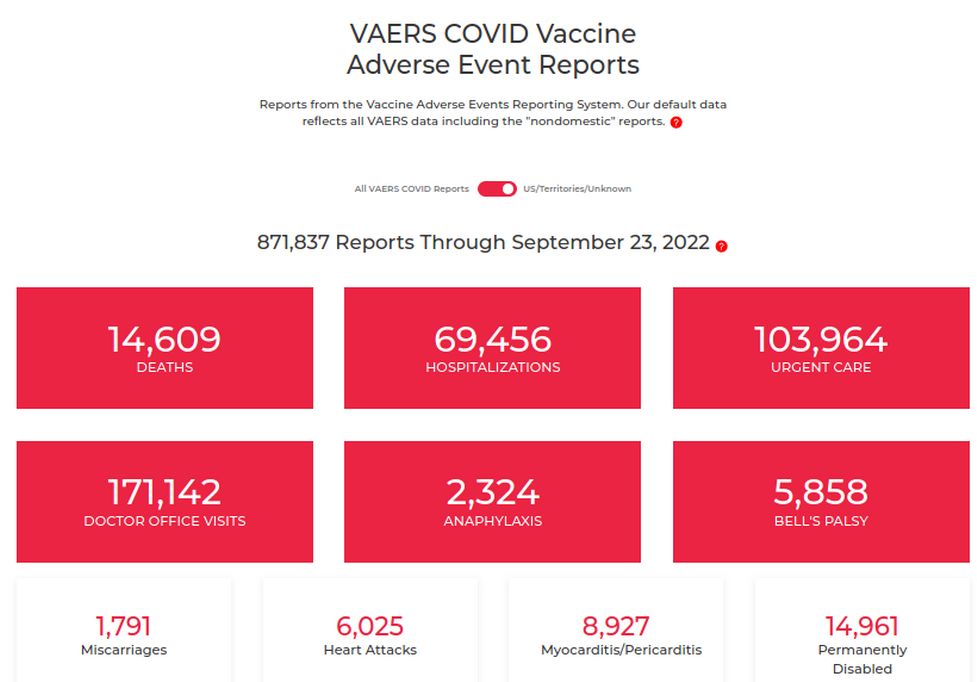 I summarize some of the injuries in this table:
US: Deaths and Injuries associated with Covid vaccination to Sept 23 2022
Death

Miscarriages

Heart attacks

Myocarditis

Pericarditis

Permanent Disability

14,609

1,791

6,025

8,927

14,961
A person might look at these deaths and injuries, and knowing that approximately 224 million people are fully vaccinated in the US (according to Our World In Data, retrieved on September 10th 2022), they might claim that the chance of dying or injury is low compared to the number of Covid vaccines administered. However, we need to recognize two things:
1- Not all injuries and deaths are reported to VAERS. According to the 2009 Lazurus report: (My underlining and bolding)
"VAERS is widely acknowledged, even by the CDC, to be vastly underreported. From their (the CDC's) Data guide:
"'Underreporting' is one of the main limitations of passive surveillance systems, including VAERS. The term, underreporting, refers to the fact that VAERS receives reports for only a small fraction of actual adverse events.."
The Lazarus report from Harvard Pilgrim Health Care in 2009 used Epic (one of the largest electronic medical records systems used in the US) to gather data automatically from the system...
"Adverse events from drugs and vaccines are common, but underreported...fewer than 1% of vaccine adverse events are reported."
The results clearly showed that injury was much more common than the one-in-a-million lie that is often cited."
2- We don't know if people who have taken Covid vaccines will suffer serious health problems in the future. Will doctors be able and willing to consider connecting a fast moving cancer in an otherwise healthy young person to Covid vaccination? Even if they do, the cancer-stricken person will have no recourse. Neither do the many people who are suffering from vaccine injuries.
There are vaccine mandates; however, vaccine manufacturers themselves are not liable for vaccine injuries.
In a Newsweek article Fact Check: Are Pharmaceutical Companies Immune From COVID-19 Vaccine Lawsuits? (January 21st 2021): (My underlining)
"According to 42 U.S. Code § 300aa–22, "No vaccine manufacturer shall be liable in a civil action for damages arising from a vaccine-related injury or death associated with the administration of a vaccine after October 1, 1988, if the injury or death resulted from side effects that were unavoidable even though the vaccine was properly prepared and was accompanied by proper directions and warnings."
In other words, companies that manufacture vaccines are not liable if someone has an allergic reaction or injury after being vaccinated. However, individuals can file a petition with the National Vaccine Injury Compensation Program (VICP) administered by the U.S. Department of Health and Human Services (HHS) to receive compensation if they are found to have been injured by one of the vaccines covered by VICP… Though VICP covers vaccines for diseases including human papillomavirus (HPV), measles, mumps, polio and seasonal influenza, it does not cover any COVID-19 vaccines."
Pretty shocking, right?
In the next chapter we will look at how the mainstream is awakening.